Sons of Abiff – Chapter Officers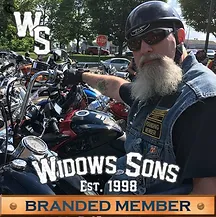 Jim "Grizz" Ryan
President

Jeff "Spider" Myers
Vice President

Sam "Magellan" Underland
Secretary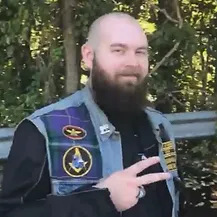 Michael "Irish" Ryan
Treasurer
Herbert T. "Herbie" Hale, Jr.
Guardian of Membership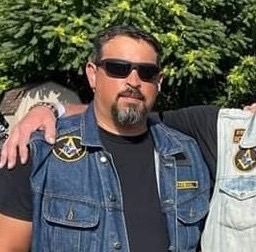 Ramon "Parzival" Tapia
Sgt. At Arms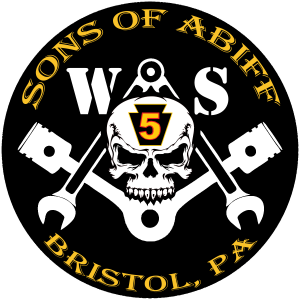 The Widows Sons Masonic Riders Association is an International Association open to all Master Masons who enjoy riding motorcycles and want to associate with their Fraternal Brothers in that capacity. Our goal is to contribute to the relief of our Widows and Orphans, raise Masonic awareness in the motorcycling world, and introduce motorcycling to our Masonic Brothers. We are an MRA and not an MC or 1% club. We do our very best to better our community and cast a positive light on Freemasonry. 
Sons of Abiff Chapter received our charter on September 19, 2010. We had 13 original members and were the 5th chapter to form in Pennsylvania. We are located in Bristol, Pennsylvania and meet on the 1st Monday of every month at 7pm at Bristol Masonic Lodge, #25. We started as a group of Master Masons who enjoyed riding motorcycles. We wanted to use our love for the sport to better ourselves and our community, as well as share in good fellowship. Through the Widows Sons, we have met like-minded Brethren from all over Pennsylvania (and beyond) who share our values and interests and who we may never have known otherwise.  
---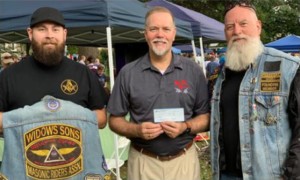 The Sons of Abiff Widows Sons, Masonic Riders Association, from Bristol, Pa., held a motorcycle ride/fund raiser on Aug. 5, 2018, to raise money to sponsor participants in the Masonic LifeSkills Camps held at the Masonic Conference Center-Patton Campus in Elizabethtown. On Sept. 22, 2018, several members rode to Elizabethtown to visit the Masonic Village for the first time during Autumn Day. Brother Jim "Grizz" Ryan (right) presented a check for $1,200 to Brother Thomas R. Labagh, Executive Director of the PA Masonic Youth Foundation (center) along with Brother Michael "Irish" Ryan, Sgt.-at-Arms for the group (left).
2023 Ride Calendar be sure to check the PAWSMRA Events Calendar for details!
Additional Chapter Contacts